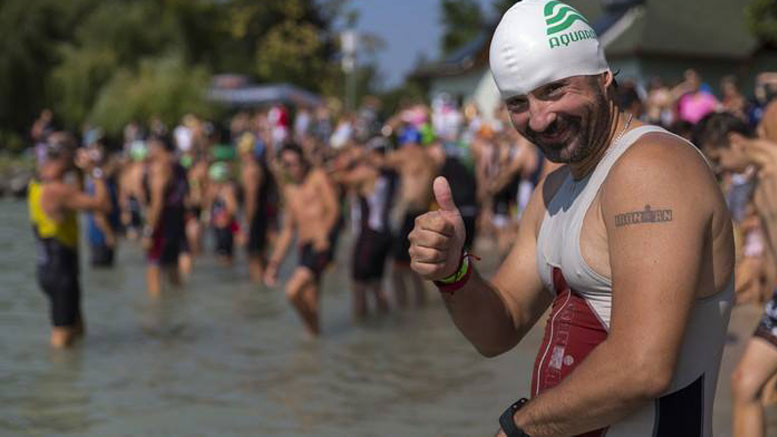 I don't even know what it is.
OK ­ Quadrathlon is the multi-sport race which challenges competitors with swimming, cycling, kayaking ans running. Distances and terrains vary, so every race is a unique experience. The World Cup includes races in Great Britain, the Czech Republic, Slovakia, Germany, Poland, Spain, Hungary and hopefully soon in your country.
That's me out ­ I can't even swim.
Some of the Quadrathlons have fairly short swims if you are not very fast or confident in the water.
Swimming is fine ­ but I haven't been in a kayak in 10 years.
You don't need to be an expert canoeist to take part in a Quadrathlon. Although the front runners will be in specialist K1 racing boats many competitors are in standard multi-purpose kayaks or canoes and some are still mastering staying in a straight line! We have even had competitors arrive two hours before the race in order to learn to kayak before the start. Few events have any significant moving water.
I don't own a kayak.
Race organizers of every World Cup event have kayaks available for hire. You will need to pre-book, but charges are always very reasonable.
So do I need a mountain bike and a road bike?
The bike legs are on tarmac, so a road bike would be best, but a standard mountain-bike would be perfectly adequate.
I can't do all races in the World Cup.
That doesn¹t matter at all. The final positions in the National Trophy competition are calculated on your best results, so you only need most of the races to maximize your points potential. Even if you can only do 1 or 2 races you will be certain to enjoy the experience of Quadrathlon.
I'm too old/fat/young to compete at Quadrathlon.
The World Quadrathlon Federation promotes separate awards for a range of age groups, including junior (under 21), over 40, over 50 and over 60. There are prize categories for men and woman at each age group but everyone races together. Quadrathlon suits older competitors.
I'm not really interested in winning ­ multi-sport is getting too competitive already.
We agree! Quadrathlon is racing like it used to be. 90% of the field are there to enjoy the race, rather than to win. There is fierce friendly competition at the front of the field, but everyone else is challenging themselves, the course, or the racer beside them. The atmosphere is one of camaraderie and mutual help, not the cold competition of some other sports these days.
This is all very well, but I don't know where you find out more about Quadrathlon.
That's easy! There should be email addresses for organizers in most countries affiliated with the WQF for any questions you may have on Quadrathlon and multi-sport racing.
We hope we have persuaded you that there are lots of reasons why you should try Quadrathlon! See you at a race very soon!